Product Overview
[Kao] Attack Zero (ZERO) One-handed push for laundry detergent drum type 400g
● Premium design for drum type.
● Highly water-saving polymer formulation prevents stains from returning to clothes during washing.
● Zero cleaning reduces "dirt", "dry odor", and "detergent residue" to zero.
● Clothes are revived every time they are washed.
● Prevents room drying odor for a long time
● Anti-mold in the washing tank.
● Even one rinse is OK
● No optical brightener.
● Leafy Breeze scent (slight scent).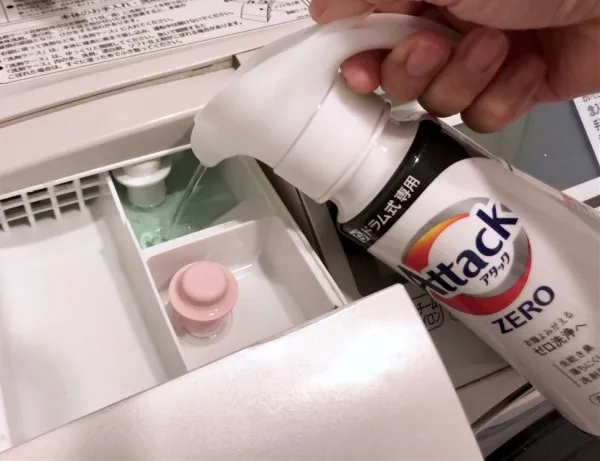 [How to use]
● When refilling, be sure to use "Attack ZERO Drum Type Dedicated Refill".
● If you put other products in, the liquid may not come out.
● One-handed type that measures with one hand
● The amount can be adjusted by the number of pushes according to the amount of material to be washed.
● At the beginning of use, remove the red stopper and use the detergent of the machine to wash the discharge port.
● Push it toward the inlet, etc. according to the guideline for the amount used.
● The number of pushes you start using may not allow the liquid to come out.
● One cap displayed on the washing machine is about 5 pushes. [Estimated amount of use]
● Drum type washable amount Push frequency (1 push = approx. 5 g)
● 6 kg 5 push (25 g)
● 5 kg 4 push (20 g)
● 4 kg 3 push (15 g)
● 2 kg 2 push (10 g)
● When pushing Push it all the way to the end for proper weighing.
● Do not use near your face as the liquid may pop out if you push it strongly.
● When dripping, wipe off the tip of the discharge port immediately.
● If the liquid mixed with air comes out, refill it.
Country of manufacture: Japan
Reviews